2005 & 2003 Angus America
Seedstock Producer of the Year
Selected by Angus America for producing and supplying real time superior genetics that work in the Angus America Program. This award is given to the Seedstock Producer which has the highest premium per head on cattle marketed through Angus America.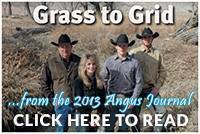 1998 Certified Angus Beef
Commitment to Excellence Award
Our goal at Martin Ranch is to help our customers market their calves at a premium.
Rather it be through retained ownership, partnership, or 100% sale. We would be interested in working with you.